PROPERTY ASSESSMENTS ON CONSERVATION LANDS, Updated 2020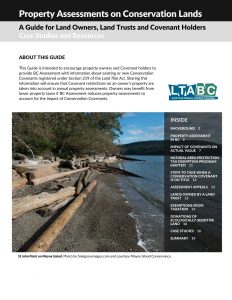 This Guide is intended to encourage property owners and Covenant holders to provide BC Assessment with information about existing or new Conservation Covenants registered under Section 219 of the Land Title Act. Sharing this information will ensure that Covenant restrictions on an owner's property are taken into account in annual property assessments. Owners may benefit from lower property taxes if BC Assessment reduces property assessments to account for the impact of Conservation Covenants.

Read or download the full document here.