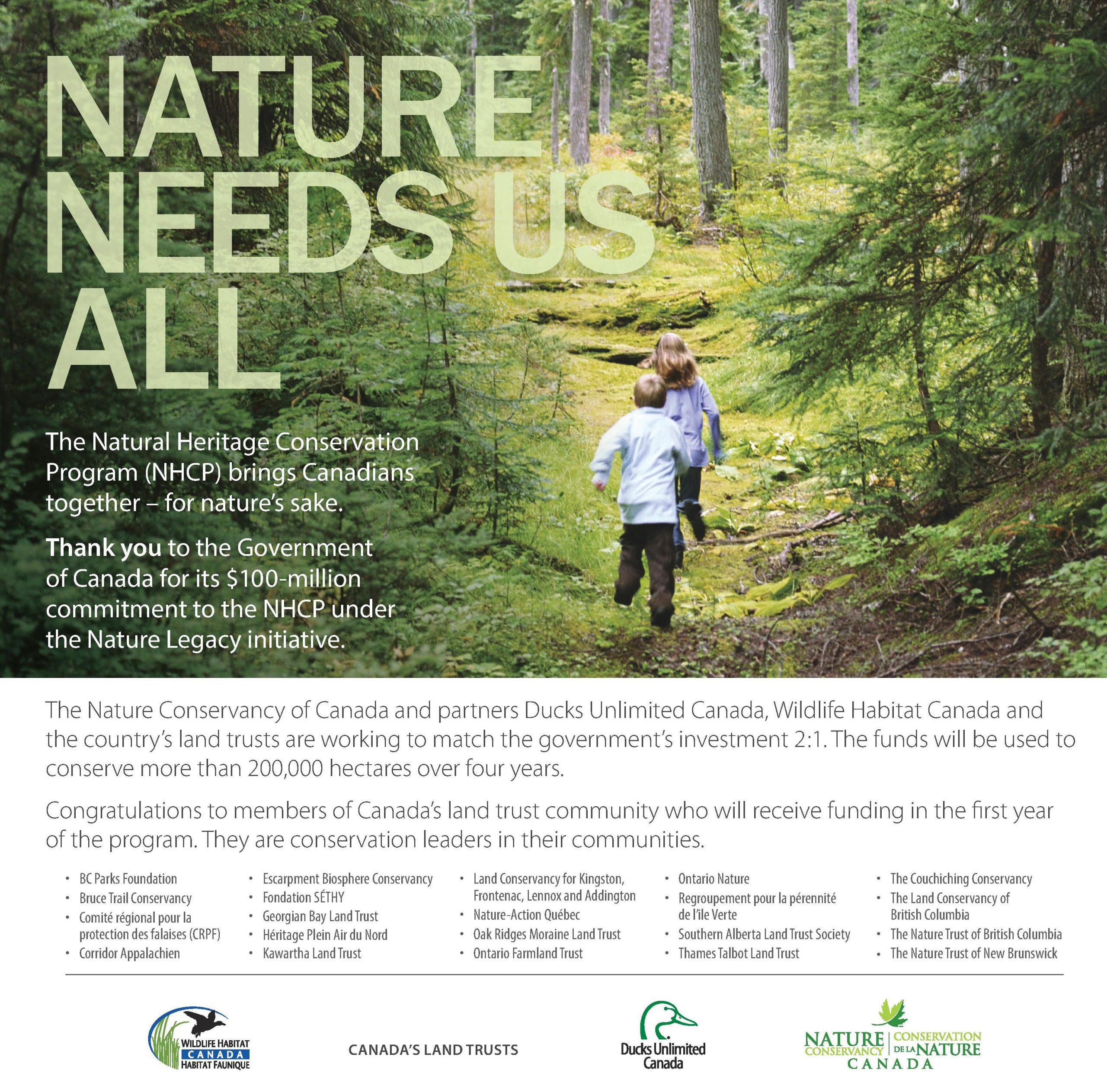 In Spring 2019 Environment & Climate Change Canada announced $100 million awarded to a partnership of The Nature Conservancy of Canada, Ducks Unlimited and the Canadian Land Trusts Working Group.
As one component of the $20 million allocated to community land trusts,  Réseau de milieux naturels protégés (RMN), Ontario Land Trust Alliance (OLTA), and the Land Trust Alliance of British Columbia (LTABC) will receive Capacity Building Funds through the grant administrator Wildlife Habitat Canada (WHC).
The Capacity Building component with the three provincial alliances will provide for increased education, communications and promotion, and adherence to the Canadian Land Trust Standards & Practices with a goal to ensure maximum awareness and subscription to the Natural Heritage Conservation Program – Land Trusts Conservation Fund (NHCP-LTCF) available 2019-2023.
The three Alliances – RMN, OLTA and LTABC – will work collectively and cooperatively to bring capacity building services to the community of local and regional land trusts across Canada, particularly to support engagement with the NHCP-LTCF.
LTABC will provide programs to British Columbia, Alberta and land trusts requiring programs in the Prairies:
Communications, support, advice on the LTCF
Education and capacity building for conservation planning and management
Increased awareness, training, education and support for the Canadian Land Trust Standards & Practices program
Since 2017, LTABC has been actively engaged with the Canadian Land Trust Working Group and since 2018 with Wildlife Habitat Canada to bring this program forward.
In 2019, LTABC began promoting the LTCF to land trusts and engaged with numerous partners in their applications for funding.
In November 2019, LTABC's Fall Conference featured eight sessions directly linked to capacity building and education related to the Standards & Practices program.
At the conference, roundtables were held with 14 land trusts, and a subsequent survey gained feedback from an additional 13 land trusts providing information on how land trusts relate to the Standards & Practices, what resources they would require to advance the program, and what educational activities would assist them. This information will inform future activities.
In February 2020, LTABC hosted a webinar with WHC on the LTCF which was attended by 27 land trusts. In March 2020 a second webinar will be hosted updating land trusts on the revised 2019 Standards & Practices and the National Forum taking place in Ottawa in late February. You can listen to the February webinar here, but to see the visuals properly, view this PDF file of the Powerpoint slides.
LTABC has engaged a contractor who has produced a resource document for community land trusts to assist them in developing a basic Conservation plan, one capacity building component identified by land trusts. Read Developing a Conservation Plan: A Basic Guide for Land Trusts here.  Following this, a webinar will be held.
LTABC is planning a Fall Conference for November 2020. The program will feature an extensive approach to support requirements of the S&P program and to help land trusts build capacity and knowledge in specific areas.
LTABC is actively working with the CLTWG and WHC to launch the 2020 grant program making revisions from feedback received from land trusts.
See the full list of grant recipients from Year 1 of the Land Trusts Conservation Program here.