LAND Magazine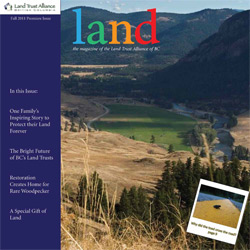 LAND brings you news about land trusts across British Columbia. Few people know that our 28 Land Trust members have collectively conserved more than 1 million acres of land in BC. From forests to grasslands, streams to heritage properties, our members have for the past 40 years saved some of the province's most valued and treasured lands.
The stories we bring you in LAND are a celebration of our members, the people who have conserved land and the future of British Columbia.
LAND Issues
Kingfisher Archive
LAND was formerly known as the Kingfisher, and most back issues are available below.
Issue 2 – Winter 2011
Issue 1 – Winter 2011
Further Information