Canada 150

LTABC has announced the second group of 25 people to be inducted into the Canada 150 Land Trust Honour Roll:
Jeff Ralph, Victoria | Tony McLeod, Salt Spring Island | John West, Vancouver | Judy Steeve, Okanagan Valley |
Don Knox, Okanagan Valley | Hugh Westhauser, Okanagan Valley | Paul Chapman, Nanaimo
Christine Torgrimson, Salt Spring Island | Joanne Neilson, Fraser Valley | Jennifer Eliason, Victoria
Kai Reitzel, Cowichan Valley | Andy MacKinnon, Metchosin | Laura Mattias, Salt Spring Island
Jan Garnett, Pender Island | Tom Swann, Bowen Island | Kate Emmings, Galiano Island
David Stapley, Comox Valley | Cynthia Bendickson, Campbell River | Tim Ennis, Comox Valley
Judy Stephenson, Salt Spring Island | Todd Carnahan, Cowichan | Sandra Tassel (Honourary), Washington
Bob Wheedon, Salt Spring Island | Paul Leighton, Savary Island | Janet Southcott, Powell River
Canada 150 Land Trust Honour Roll Announced! 
VICTORIA – On behalf of the Honourable Mélanie Joly, Minister of Canadian Heritage, Dan Ruimy, Member of Parliament (Pitt Meadows – Maple Ridge), announced funding for Canada 150 Fund recipients on Vancouver Island, including the Land Trust Alliance of British Columbia LTABC
Paul McNair, LTABC Executive Director, said the $48,000 contribution will fund a project called Take a Walk on the Wide Side which includes art exhibits, a nature photography contest, land trust events in communities across the province and the Canada 150 Land Trust Honor Roll recognizing 150 British Columbians who have contributed to the conservation of private lands across the province.
To launch the program, twenty British Columbians have been named to the Canada 150 Land Trust Honour Roll in celebration of the Land Trust Alliance of British Columbia's 20th Anniversary. British Columbians from all parts of the province are the first recipients of the Canada 150 Land Trust Honour Roll.  LTABC has launched the project to bring awareness of private land conservation and to recognize individuals who have helped protect ecologically sensitive lands as part of the Canada land trust movement.  Each recipient will receive a certificate and commemorative pin and will be recognized by their local community land trust.
The first twenty inductees onto the 2017 Land Trust Honour Roll are:
Bill Wagner, Kelowna: Bill has been involved in conservation in the Okanagan, Chaired the LTABC Board and was instrumental in developing its HR Policy.
Sheila Harrington, Lasqueti Island: the first Executive Director of the Land Trust Alliance, Sheila has been instrumental in the formation of the Lasqueti Island Nature Conservancy.
Alf Birch, Saanich: Alf is the Volunteer Coordinator for Habitat Acquisition Trust and has led the conservation tax exemption project for LTABC
Michael Dunn, Mayne Island: Michael has served as Executive Director and been instrumental in Gulf Island conservation efforts
Ben van Drimmelen, Victoria: Ben served on the LTABC Board for 6 years and was the BC rep on the CLTA Board, and is the Past Chair of Habitat Acquisition Trust.
Gail Adrienne, Nanaimo: Gail is the Executive Director of NALT and was a founding member of LTABC.
Liz Webster, Savary Island: Liz has been instrumental in community education and leading the Savary Island Land Trust to achieve significant success conserving land on Savary Island.
Adam Taylor, Shawnigan: Adam served on the Board of LTABC (Co-Chair for 2 years) and lead the successful operations of Habitat Conservation Trust as Executive Director from 2009 to 2015.
Katie Blake, Victoria: Working with NCC, Katie has been an exemplary resource for land trusts across BC, lending expertise on covenants and land management.
Jack Minard, Victoria: Jack has been a major force in the protection of the Comox Valley serving as Executive Director of the Regional Land Trust and helping foster the region's conservation plan.
Marian Adair, Vancouver: Marian's work with the Nature Trust of BC has been significant in protecting land across BC that is ecologically sensitive
Dan Buffet, Surrey: With Ducks Unlimited Canada, Dan has been instrumental in the development of the BC Conservation Database.
John Peirce, Gabriola Island: John has provided leadership in land conservation and has been a significant contributor to the American Friends of Canadian Land Trusts
Briony Penn, Salt Spring Island: renowned environmentalist, Briony has contributed significantly to the development of The Land Conservancy of BC.
Ashley Hilliard, Salt Spring Island Conservancy: a long-time board member of the Salt Spring Island Conservancy, instrumental in the protection of key lands on Salt Spring.
Frank Arnold, Victoria: Frank has served as both Treasurer and Chair of the Land Trust Alliance as well as serving on the Board of Habitat Acquisition Trust.
Rob Butler, Vancouver: Ornithologist, filmmaker, artist and scientist researching birds, Rob has published over 140 works, appeared on numerous T.V. and radio programs, and serves on the board of The Nature Trust of B.C.
Robert Hobson, Kelowna: A professional planner and administrator focusing on heritage conservation and resource management, this 3rd generation Okanagan orchardist has been an outspoken supporter of agriculture.
Dave Cunnington – Vancouver: Dave works with Environment Canada leading the Eco-gift program in BC and working with land trusts across BC to protect private land.
Chuck DeSorcy, Campbell River: Founding member of Greenways Land Trust, Chuck actively engages school groups with outdoor education and invasive species removal projects.
In announcing the first twenty recipients, Paul McNair, Executive Director of the Land Trust Alliance, says, "This first group to be named to the Canada 150 Honour Roll represents an extraordinary group of British Columbians who collectively have contributed hundreds of years of service and dedication to protecting the province's environment."
He says that from protecting forests, to wetlands, shorelines, grasslands and species at risk, these twenty individuals have been leaders in private land conservation and stand as examples for every British Columbian to aspire to. The Land Trust Alliance will announce additional honourees on July 1 when Canada officially marks its 150th birthday.
Provincial Art Show Announced to run during July 1 weekend!
Land Trust Alliance is pleased to announce a province-wide call for entries to our Canada Day Art Show. It's very simple. Artists are asked to submit YOUR interpretation of a Canadian landscape on paper (size not to exceed 9 x 12 inches). The show will take place in Victoria for 150 hours and prizes will be awarded in a number of categories.Painting, drawing, collage, photography, mixed media are all encouraged within the size limitations and must be on paper.
Entry form and guidelines: ARTcanada150FORMFINAL2017x.pdf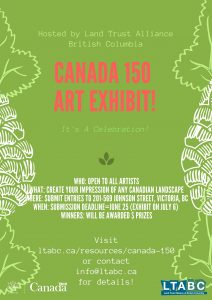 HONOUR_ROLL.docx Please click here to access nomination form
LTABC celebrates Canada 150 and our own 20th anniversary this year with the announcement of the Land Trust Honour Roll.
150 British Columbians will be named to the Honour Roll for their contribution to the success of land trusts across the province. Land Trusts are eligible to nominate recipints the first of which will be announced in April in conjunction with Earth Day.
Each recipient will receive a certificate and pin to acknowledge their contribution.
TAKE A WALK ON THE WILD SIDE
From April 2017 until November 2017, LTABC will coordinate a marketing program to promote events and activities across BC during Canada's 150th!
Land Trusts are eligible for project grants of up to $150 to help offset costs with public events during Canada 150. The request form is attached and questions may be directed to our office. TAKEaWALKform.docx