Canada 150

Provincial Art Show Announced to run during July 1 weekend!
Land Trust Alliance is pleased to announce a province-wide call for entries to our Canada Day Art Show. It's very simple. Artists are asked to submit YOUR interpretation of a Canadian landscape on paper (size not to exceed 9 x 12 inches). The show will take place in Victoria for 150 hours and prizes will be awarded in a number of categories.Painting, drawing, collage, photography, mixed media are all encouraged within the size limitations and must be on paper.
Entry form and guidelines: ARTcanada150FORMFINAL2017x.pdf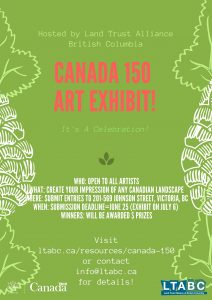 HONOUR_ROLL.docx Please click here to access nomination form
LTABC celebrates Canada 150 and our own 20th anniversary this year with the announcement of the Land Trust Honour Roll.
150 British Columbians will be named to the Honour Roll for their contribution to the success of land trusts across the province. Land Trusts are eligible to nominate recipints the first of which will be announced in April in conjunction with Earth Day.
Each recipient will receive a certificate and pin to acknowledge their contribution.
TAKE A WALK ON THE WILD SIDE
From April 2017 until November 2017, LTABC will coordinate a marketing program to promote events and activities across BC during Canada's 150th!
Land Trusts are eligible for project grants of up to $150 to help offset costs with public events during Canada 150. The request form is attached and questions may be directed to our office. TAKEaWALKform.docx