Giving the Land a Voice: Mapping our Home Places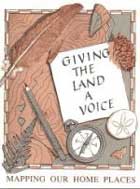 2nd revised edition by Doug Aberley, Michael Dunn, and Briony Penn with brief articles by Malcolm Penn and Bill Turner – a practical & inspirational manualfor conservation, community planning, and education purposes $20 – $14 members. Shipping and handling – $5 Canada; $10 US.
Contact LTABC to order.